Administrative Tasks and Security
User permissions & groups
Multiple user levels can be configured to allow efficient and secure data manipulation:
   ♦ 

Super-Administrator  
  ♦ Administrator

   ♦ 

Staff+
 

♦ 

Staff

   ♦ 

User
 

♦

 Visitor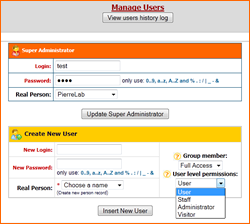 Data entries for lower level users can remain in a waiting status until an administrator provides validation. Passwords are kept encrypted. Visitors can only view data. Groups of users can also be defined with specific access rules on modules for even more security. Different privacy modes can be defined to isolate users. For traceability purposes a history log is provided and it can be accessed by the super-administrator. The audit trail is generally required for certified and regulated labs. For regulations compliance a data versioning option is also available to track all changes in records. LabCollector protects against data loss with records deletion locks. 
LDAP and AD:
LDAP and Active Directory login validation is supported.
Data backups: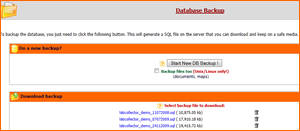 A simple backup method is provided to secure data on any external media. Importing and database backup are only available to administrators or the super-administrator. Staff and user members can only import under their own name. With the Windows manager an automatic and scheduled full backup system is available.